ENERGY STORAGE
MyReserve,
unlimited green energy
MYRESERVE
The latest in battery storage.
Benefit from self-consumption.
SOLARWATT
SOLARWATT introduces the world's first fully modular energy storage device: MyReserve Matrix.

Makes your photovoltaic system more profitable.
Customizing the exact capacity of our storage system to suit your needs will make it more profitable for you. In the future, it will be possible to couple more green energy sources in the form of network services to your storage device.
New areas of application thanks to modular design.
The MyReserve Matrix storage system is completely modular in design and therefore expandable with almost no limits. Do you need more power or capacity? Just add another MyReserve package and command. You can build the right system for every need.
MyReserve can be adapted to any system. Expansion is possible in 2.4 kWh increments thanks to the modular design and the battery storage system is compatible with all common inverter types.
Eco-friendly battery system.
The fully modular design makes servicing and maintenance easy. The complete system can also be broken down into its basic components when it has reached the end of service, and most parts can be reused.
Proven safety
SOLARWATT MyReserve fully complies with safety guidelines for lithium-ion battery storage systems. The battery storage system is also protected against digital intrusion and meets the highest safety standards for transportation, operation, and occupational safety.
Compact space saving design.
Both components of the system, the MyReserve Command that houses the power electronics and the MyReserve Pack battery module, are each the size of a shoebox. Thanks to the compact design, this system fits in almost any room.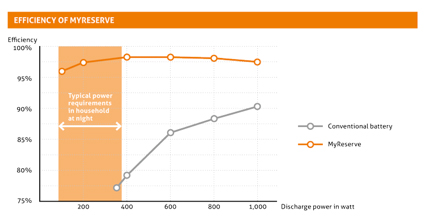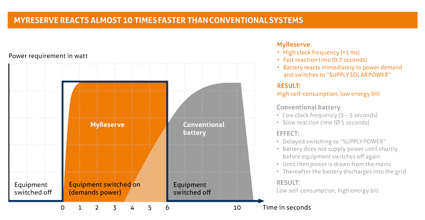 Save money and protect the climate.
Generate good energy.
C/ Eusebio Estada 70 bajos 
07004 · Palma Baleares, Spain